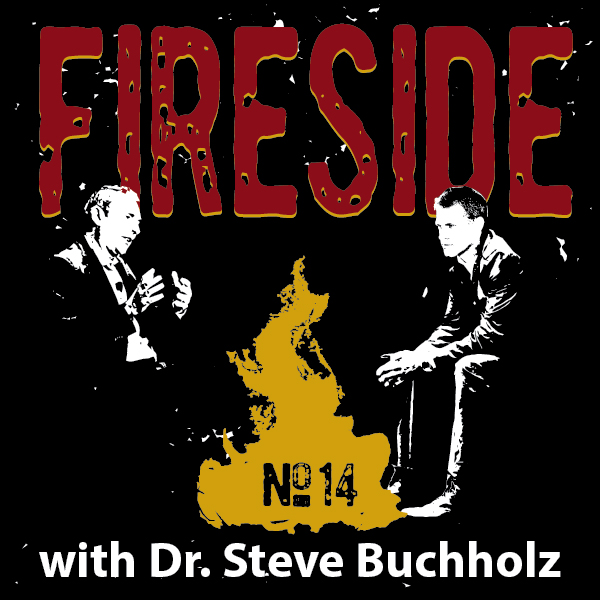 FIRESIDE No. 14 with Dr. Steve Buchholz
Posted on December 4, 2017 by
Blake Leath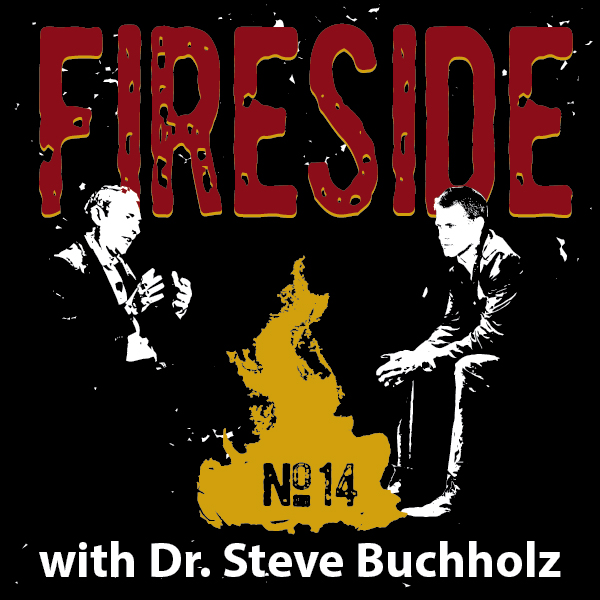 "TRAINING & FACILITATING,
MASTERY COACHING, CONTEXT,
TEMPERAMENT, DISPOSITION,
FIXED & OPEN MINDSET, ENERGY,
COMPETENCE, RELATIONSHIP,
LEGACY, SUCCESS &
SIGNIFICANCE, SACRIFICE,
THE HERO'S JOURNEY, TRADE-
OFFS, BEING—DOING—HAVING,
AWARENESS, QUANTITY &
QUALITY, BALANCE, BEING
PRESENT, CONNECTION,
REGRET & WORRY, VERSATILITY,
EQ, SITUATIONAL LEADERSHIP,
DISCERNMENT, CHOICEMAKING,
DEFINING REALITY & REALISTIC
OPTIMISM, VALIDATION,
COACHING DONALD TRUMP,
EMPATHY, RESTING ONE'S
PERSONALITY,
AND ENGAGEMENT"
l l l
I'm an organizational sociologist, strategist, writer, and teacher, but am—first, foremost, and always—a student of enterprises and those who lead them. In my 2007 book, Cultivating the Strategic Mind, I explored the transition from leader to visionary, creator, and architect of strategy. Today, I continue studying strategists and leaders but am increasingly haunted by what I see as a more fundamental, personal quest: understanding and improving the dying sub-disciplines of management, whether time, conflict, self, or life-management. Leadership gets a lot of glory, but management is the nuts & bolts practices of every day that gets it done. Fireside (which admittedly began as a series of ruminative 1 ½ to 2-hour one-on-one conversations with seasoned management executives reflecting on their life's work) quickly evolved into dialogues about work within the context of life and life after work. This ricochet took me by surprise, but I found it an exceedingly pleasant one. After all, "Though we hire employees, we get people." My sincerest hope now is that—in an oft-discouraging world—Fireside might prove a respite, a source of light, warmth, energy, encouragement, safety, nourishment, perhaps even inspiration in your own career or life, whether at home or out in the big, bad world. Around the fireside at the end of the day, it's clear that we are all in this together, and everyone has a story worth sharing and hearing. You will be the ultimate arbiter, of course, but I predict we shall learn a great deal about management, yes, but even more about ourselves and this enterprise we call life.
l l l
Today's guest is Dr. Steve Buchholz.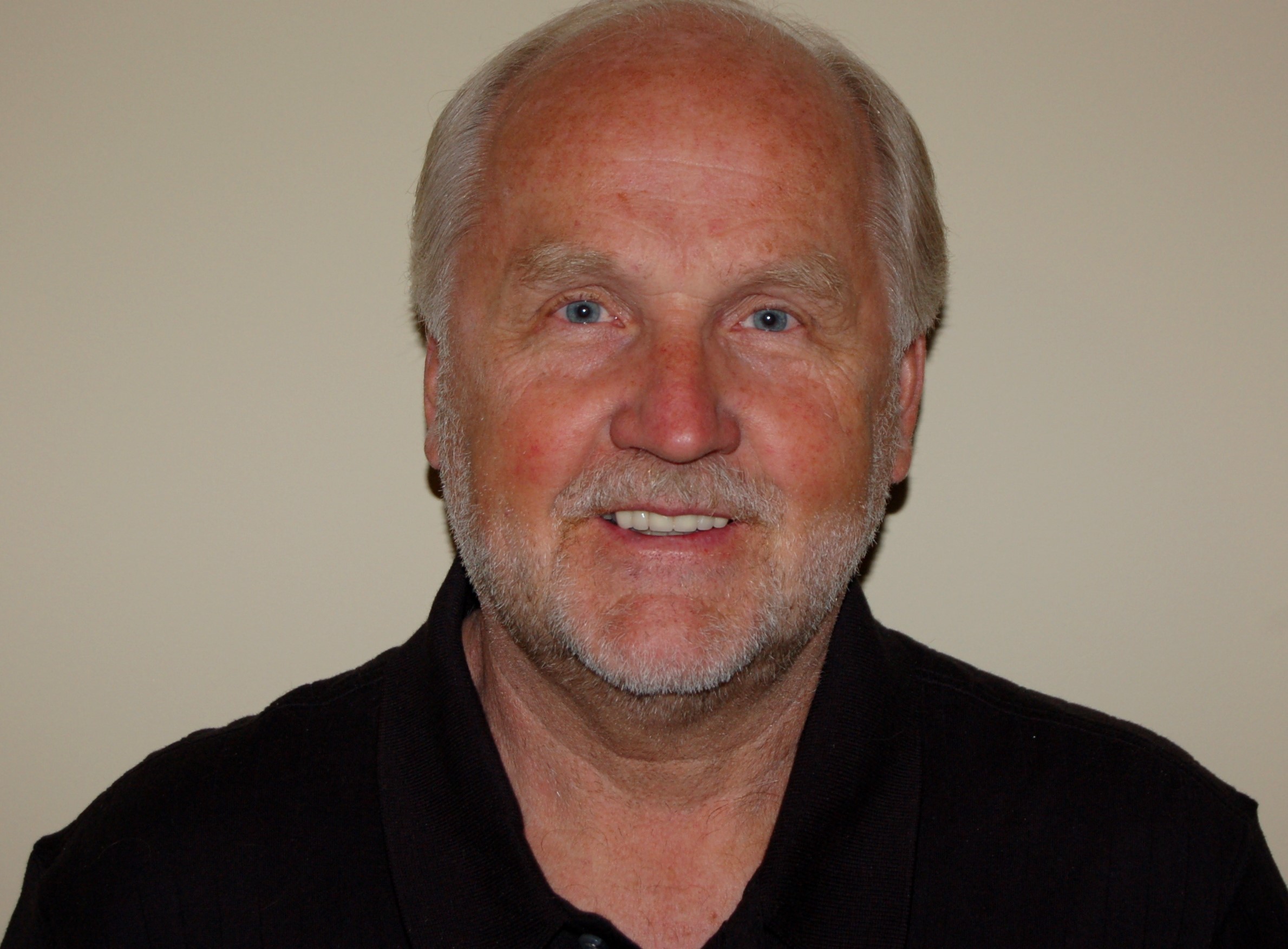 Formerly Vice President of Product Development for Wilson learning, President of The Inventure Group, and currently President of Emergence, Dr. Steve Buchholz is a noted author with significant experience in three relevant domains:
(1) His book Creating High Performance Teams is the basis for building the benchmarks of a high-performance team. He currently facilitates senior leadership groups regarding what it means to lead as a team.
(2) His book Aftershock: Change's Impact on the Human Spirit is the basis for numerous insights regarding what happens to the energy of an organization after major change.
(3) And his work on leadership brings a special knowledge regarding the importance of leaders and leadership teams and the role they must play during turbulent times.
His most recent projects are a fourth book entitled Unplugged: How Organizations Lose Their Energy and How to Get It Back with Tom Roth, President of Wilson Learning. The focus is on re-engagement, looking at what dis-engages organizations, and the key elements that influence the return to high employee engagement. A second project includes a leadership journal promoting deep reflection on what it means to lead.
He also serves as a "Mastery" coach working with several high potential candidates from various organizations. The focus is on building their leadership regard and preparing them for the next level of leadership.
His specialties include Mastery Coaching, Product Design, Leadership, Change Management/Engagement, Work Culture, and Working with Senior Executives.
Steve earned his PhD in Interpersonal Communications in 1973 and consults regularly with leaders around the world. When stateside, he can often be found on a remote lake in Minnesota enjoying his family and friends.
Blake Leath: Hi, Steve, thank you for sitting down with me today.
Steve Buchholz: My pleasure; thank you for asking.
Blake: I'd like to jump right in. What led you to your vocation, and what keeps you in it?
Steve: I can start with a story. There was no intention in getting into this "calling." I was finishing work on my PhD and had accepted an assistant professorship at the University of Oregon. I'd come to Minneapolis on a spring vacation and visited with a good friend and really enjoyed my time in the big city. As I was going back to school, I said to him, "Hey, you know my background; if you ever run in to an opportunity for me here, would you please let me know?" He called me about two weeks later and described an interview he'd arranged for me with Wilson Learning. He had just been through a course called Counselor Selling at their home office. I was told they were looking for a course facilitator. I met with two or three Wilson leaders and before I left was offered an opportunity to join them. I didn't have any real idea what I was signing up for! The kicker was (and this really dates me), Wilson offered me $12,000 a year, while the University of Oregon had offered me $9,000. Who could turn that down?
But another major connection, Blake, became the fact that my dissertation was Social Style, and Larry Wilson had a real interest in the concept and was using Dr. David W. Merrill's style profile. So I began my career at Wilson facilitating a series of courses they had created for organizations.
The more I facilitated and learned the business, I realized that learning really suited me, and Larry gave me and others every opportunity to learn new concepts and applications. He sent me to places to learn subjects like transactional analysis, rational behavior therapy, praxis, and just a variety of subjects, the intention being to size it all up, return, and see whether interpreting and incorporating any of it into what we were doing had any value.
Blake: What subject areas besides Social Style did you focus and develop insights around?
Steve: One key area that I have continued to focus on over the years is the use of teams. Early in my career, I went out and visited people who were doing—at that time—"quality circles." This represented one of the first applications of teaming in U.S. industry. In the late 80s, I, along with Tom Roth, took our insights and wrote the book Creating High-Performing Teams. This was one of the first books written on the subject, and it became a business best seller. Our own experience [at Wilson Learning] of being acquired by John Wiley and Sons became lessons for my next book, Aftershock. I discovered a real love for exploring trends and adapting them into learning products. You may say this became my calling. Eventually, that calling took me into executive coaching, and then embarking on my own to serve the community and committing to take leaders to the next level.
Blake: What year did you join Wilson Learning?
Steve: 1974.
Blake: What were some of the transactional analysis principles that you applied to Counselor Selling?
Steve: TA was a very popular model for understanding social transactions in the late 70s, right. The model suggested that in every one of us, there's a parent, a child, and an adult. At any time, we can be in one of these modes, meaning, we are acting parent-like, child-like, or adult-like. The parent in us mimics how we were parented. The child in us mimics how we felt, behaved, and thought as a child. Only when in the adult mode do we objectively appraise reality. We're not scripted when we are in our adult. Assume, for example, that you are walking along a road with a BB gun and come across an abandoned building where several panes of glass are still present, and your thought is to have some target practice. The parent in you holds the guilt button and may whisper in your mind, this is not your property and you could get into trouble. The child looks at the panes of glass and imagines the fun in shooting some of them out. The adult weighs the consequences against the fun of it and rationally decides what to do.
If you think of the relevance to, say, Counselor Selling, imagine sitting across from a customer and being able to understand what mode the customer is in. For example, the child in us makes an emotional rather than rational decision to buy, only to regret it later. The goal, of course, is to get adult interacting with adult, because that's the one that rationalizes, and hears, and understands, and makes good decisions about buying something.
Blake: It sounds interesting.
Steve: It was interesting for a while, yes, but it lost its appeal rather quickly. It is still being used extensively, though, in therapy.
Blake: What's the strategy to get someone into their adult mode? Is it just to treat them as an adult?
Steve: And to get them to "rest their personality, and ask." To be inquisitive, and to have an inquisitive mindset. Or, as we called it at Wilson Learning, "the discovery process." There are a couple books you'd probably enjoy on the subject. Muriel James wrote a book called Born to Win, and there's another called I'm OK—You're OK, by Tom Harris. Both of these are books on transactional analysis.
Blake: And it came naturally to turn your learning into practical applications for corporations, organizations, and leaders?
Steve: Yes, but I didn't know I'd had this talent for developing products. But, like most things, working at it brought out this potential.
Blake: What do you think makes someone good at product development?
Steve: I wish I had a great answer to that, Blake, but I'm not sure. I'm not a detail person at all; my gifts are discernment and being able to take big concepts and translate them into something meaningful for people. Don't ask me why or how; it's just my gift. And I didn't really have a chance to use it until I got to Wilson Learning.
Blake: How old were you when you joined, then, in 1974?
Steve: None of your business! [Laughter] I would have been 23.
Blake: That's what I was thinking. Really young. I was fortunate like that, too, to just fall through doors opened for me that I really had no business entering at 22-23.
Steve: Yeah. I stepped into something at the right time, and a lot of people came in to my life at the right time, and I'm very thankful for that.
Blake: You know, I wonder sometimes how receptive the business community is to these kinds of soft skills. Have you seen the receptivity change over the last four decades?
Steve: A little bit, but not as much as I'd like it to. I still run into clients who talk about "the soft stuff," and things like that. The way they express it is as if it were lesser than or not as important as the hard stuff. They see it as an inconvenience to have to focus on at work, and it's like they're embarrassed sometimes to think of themselves as knowledgeable in the soft areas. But, you know, I think a lot of them realize the hard stuff is the soft stuff. I've got two or three coaching examples going on right now, big projects, where the processes are simply not working. The problem isn't the mechanics of what they've set out to do, it's the interpersonal conflicts between people. Or a poor leader. Anything of that nature—the soft stuff—is certainly the sort of thing that crosses my desk.
Blake: Can we step back for a minute? Can you walk us through your leadership journey at Wilson Learning? What roles you occupied?
Steve: Well, I got my PhD in Organizational Behavior, which, at the time, was Speech Communication, Sociology, Psychology, and Research Design. I came to Wilson and started as an instructor, a facilitator. I traveled around teaching Wilson sales courses to start with. Then I began to teach a version of Managing Interpersonal Relationships, Wilson's first foray into Social Style. I primarily facilitated for three to four years. Then I begin to develop products that were for managers and leaders. I became head of the department of product development for the leadership curriculum, you might say.
I eventually became Senior Vice President of Research & Development, most of it on the development side, in which I oversaw all development at all three Wilson locations, and that's what I was doing when I left Wilson Learning.
Blake: You've facilitated a lot of workshops, trained countless professionals, coached, and written landmark books. Walk us through what you think makes someone good at these various roles, and how do people identify what their true calling is?
Steve: That's a big question, Blake! Let's start with facilitation, with training. A couple things immediately spring to mind. First, you have to understand the context beyond the content you're teaching. To me, that means you're well-aware of what's in the leader's guide or course content, but you also have a keen sense of the "whys" around what you're teaching. This puts you in a position of being able to answer a lot of questions that aren't directly related to the content in the course, but that are related to what the course is about. This is about having a learner's mindset and creating domain competence regarding the area you're teaching.
The second thing is having a questioning temperament, so it's second nature for you to listen, move beyond lecturing or teaching, and really raise the level of conversation with those you're with.
Third would be a dispositional thing, where you have an open mindset about others' perspectives on things. I've seen some facilitators who really demonstrated what's called a fixed mindset. That is, they very much guard their own beliefs about what they're teaching, they guard their own philosophy, they guard a lot of things that make it difficult for people to express something different than what the facilitator believes. I believe having an open mindset becomes critically important.
I guess the fourth thing, Blake, is the whole nature of energy. One of the challenges I've always faced facilitating is that I'm not a high-energy person, so while it doesn't really affect my time facilitating, as soon as the session's over I can feel the energy drain right out of me. It'd be very difficult for a low-energy person like me to facilitate or coach every day. I simply lack the energy for it. Somebody has to naturally possess a lot of energy in their makeup to be a successful facilitator or trainer for an extended period of time.
Blake: I don't know if you read my FIRESIDE interview with Lou Romero, but he reminds me a bit of you. Rather than particularly high energy, he's more like still waters running deep, like a wise old owl. Rather quiet and reserved, but like E.F. Hutton. He doesn't speak a lot, but when he does, the whole room is captivated, and I've seen him successfully hold court with every audience he's ever addressed. Slow and soft-spoken, sometimes quiet, but very wise, very captivating, very deep, very authentic. He reminds me of Yoda.
Steve: Yes, that's kind of how I've succeeded, Blake. I am quiet-natured, as mentioned earlier. I like to raise the level of conversation with those I work with. I remember one person, a client, telling me one time, "We get some people in here that entertain us, and everybody [in the classroom experience] leans back. But they say that with you, everyone leans forward." I think a facilitator who's deep and is perceived very quickly to be very knowledgeable doesn't have to say a lot, and people really listen to the essence of what one tries to convey. So, I'm a low-energy person, but I've known how to manage that energy in a manner…you know, from up front with no flailing arms or trying to entertain. Quietness makes people listen more intently than someone who isn't, so I can totally understand why Lou has been effective.
Blake: He reminds me of Andy Dufresne from Shawshank Redemption. You know, Andy just kind of moseys around the yard and doesn't say very much, but man, you're hanging on to his every word!
Steve: A facilitator isn't good because of how much they say. I think audiences hunger for something deep, and appreciate a quietness. I think it just boils down to social versatility, reading the audience, understanding what they're looking for, what they expect, and doing your best to adapt to it.
Blake: What have you seen—societally and culturally—with regard to this profession of research and study? And then trying to translate and codify those findings into some sort of intellectual material and then delivering it?
Steve: Well, I left Wilson Learning in 1989, then did a National Education thing building interactive video for a year-and-a-half. Then Dick Leider and I founded The Inventure Group. In those years, there were very few companies providing soft-skills training, and today they are abundant. They provide a lot of the same things, so it became apparent to us that there was value in focusing our vocation as Mastery coaches. Many corporations are looking for someone that has what I described as domain competence; being well-rounded, but having one or two areas in which you are very sharp-pointed. It pays to specialize, because then you can be known for something very specific. My area of specialization became leadership approached through "mastery coaching," in which our purpose is to take high-potential leaders to the next level, so that's my domain competence.
At Inventure Group, the writing was on the wall: It's easier with every passing year to get more and more information readily, and virtually free. Today, employees don't even have to go to a training room; they can get everything on their phone. Dick and I were interested in more personalized interactions, not less personalized ones. We wanted to be high-touch, high-intimacy.
Blake: Like our mutual friend, Dr. Michael Kroth, who's also written on intimacy in the workplace.
Steve: Yes. And there was this diffusion of learning; numerous ways for organizations to educate and grow their people, so we chose to specialize, and to personalize.
I would also say, though, that with so much information in the world, it's all the more important for a person like me to read every day. I can't wait to get my Harvard Business Review, and Leader to Leader, another magazine I enjoy. And I get an executive review once a month that has four or five books that are reviewed and summarized in seven to eight pages. Like CliffsNotes. There are so many ways to get nuggets, but I like to explore things more deeply, and I think being immersed in the literature of the day and finding things of value to people is essential to avoid becoming obsolete.
Blake: Stagnant.
Steve: We're all programmed to grow, and we gotta figure out how to do that, so these are my ways of avoiding stagnancy or, as Dick Leider used to describe it, "rusting out."
Blake: You mentioned diffusion, but there's also compression. I've seen flipcharts yield to PowerPoint, which has yielded to videos, podcasts, and self-paced learning on smartphones, but I've also watched three and four-day workshops become one or half-day experiences. Learning and development is decentralized and ubiquitous, so the choices are limitless, but I think it's a dicey proposition to mistake four hours' learning with a process that actually transforms.
Steve: It sure is. Getting something ingrained requires time, and deep application requires deep thinking.
Blake: When I interviewed Knute Sorenson, just a few weeks ago, he talked about a pretty transformational learning experience in his own professional development, and it didn't come until the end of a week of training. Not in the third or seventh hour. The fourth or fifth day! I think that's true for a lot of people: Changing takes time.
Steve: I think that's what all training groups have to ask themselves: Are we really accomplishing what we believe we should be accomplishing?
Blake: What aged people do you provide mastery coaching for, and then, generationally, are you seeing any differences between the people that you're coaching?
Steve: Let me answer the second question first. Regarding generational differences, they certainly exist, but I feel we have over-responded and, as a result, respond to generalizations about people rather than learn the specific needs of them. I've heard people say that millennials are totally different than preceding generations, and there's some truth to that but, on the whole, people are more similar than different. Who doesn't want to feel included or want to feel leadership is interested in supporting, developing and recognizing them? People aren't that different.
To your first question, my mastery coaching usually catches people after they've been in the workforce for at least twenty years. 45 through their early 60s, catching people as they're about to go to the next level of leadership. When I work with someone around 45, they're really looking at the next level, at the staircase, and when I catch someone in their 60s, they're really looking at the crossroads.
Blake: And the folks younger than this? What are you finding among thirtysomethings?
Steve: In some of our research, we've found four general stages people want to focus on. In the early years of a person's career, the focus often is on competence. Once competence is established, they focus more on relationships, and feeling connected. The third stage is often discovering what balance means to them, and the last stage is often less about success and more regarding significance. But age matters less than journey. Depending on where someone is in their career, the coaching takes on different aims. Regardless one's age, though, the journey is very similar: Building competence, shifting toward relationships, then considering legacy and life after work. Bob Buford's book, Halftime, described it as the transition from success to significance.
Blake: Great book.
Steve: Yeah, I've given that book to more people than any other book. And I have them read it regardless of their belief system or worldview.
Blake: Interesting. That's the third time someone's mentioned Halftime to me in the past month, and Knute also spoke a great deal about the competence season, which he described as "credentialing." Becoming master of one's domain. [Laughter] If there's one regret I'm hearing from folks in their 60s, it's the bittersweet reality that when they were busy credentialing, they were also young fathers or mothers. How ironic that, at the end of our careers, we long for more time with our kids when they were kids.
Steve: Absolutely. When I do an Intake session, Blake, one of the things that I listen for is the person's interpretation of success. It can be external, which is about title, money, cars, houses. When this is their interpretation, it calls for sacrifices. The first thing people tend to sacrifice is their time, often working long hours and weekends. As a result, the second thing they tend to sacrifice is their relationships, including time with their spouse and kids. The third thing they potentially sacrifice is their health, and they run with the red light on. And the fourth thing they sometimes sacrifice is their values—believing that someday these sacrifices will all be worthwhile. I listen for these things every time I do coaching.
Blake: Wow. That's powerful, Steve.
Steve: I've met a lot of people who say they spent their time working 12-hour days, sacrificed relationships with their kids, sometimes with their spouse, all the while believing everyone would understand and that it would prove worthwhile in the end. They succeed in business but, looking back, say it wasn't worth it at all. I remember several times when I was with Inventure Group with Dick, we'd have a very successful person come through our door who was absolutely miserable, and it often had a lot to do with regret.
Blake: How does one reconcile this? It's almost irreconcilable with how the world works. We can't all be grandfathers and grandmothers pursuing our education, can we? We have to put food on the table, which biologically occurs when we—and our children—are young.
Steve: I call having a materialistic view of success "the hero's journey." If I hear someone on the hero's journey, there are two or three things I like to do. The first thing is to make them very aware that every choice has a trade-off, so if their choice is to work 12-hour days, they need to get really clear on what they're trading, which is typically time with their family and for other things, like hobbies. The follow-up question is, "Are you comfortable with the choice you made, or can you modify your choice so that you work eight or nine-hour days with less severe trade-offs?"
Then I talk to them about the journey from having to doing to being. For example, when I have enough status, money, and success, then I'll be able to do the kinds of things I've always wanted to do, and I'll be happy. That's a lie we tell ourselves. As a coach, my job is to get people to put being first: "Who are you? What do you value? What are the beliefs that drive your behavior? What are the choices that make you very aware of who you are, your being?" If you get this really clear, then you'll know what you need to do and what you need to have.
Blake: Reversing the whole thing.
Steve: We can't retrace our steps with our children, so it's powerful—a gift—to give a young leader a sense of trade-offs, consequences, priorities, the hero's journey, and understanding being, doing, and having versus having, doing, and being. It's about awareness, and Halftime reinforces this, so fewer people live a life of regret.
Blake: I can't think of anyone immune to these ideas.
Steve: Like I said, more in common than different. And I know that young leaders like to believe there can be quality time without quantity, but that's utter bullshit. So many things occur that are unplanned, just because you are there, and present. So I don't accept the rationale, Well, it's quality time. Moments we treasure are rarely orchestrated or planned; most arise unexpectedly or serendipitously.
Blake: Can you think of a personal example?
Steve: I think back to a time on vacation with my family when my kids were small. We were on the West coast. I'd planned out most of the things that we were going to do, you know, like Disneyland, the San Diego Zoo, all that sort of stuff. One afternoon, we were staying outside Los Angeles and the surf was up, and it was winter, but the kids wanted to go into the ocean. We went into the ocean, played in the waves, and it was cold, but we just had the best time. None of that was part of the plan, but when I asked the kids at the end of the trip what their favorite thing was—you guessed it—they said, "Playing in the water." That came from quantity.
Blake: You sound pretty passionate about it.
Steve: It's a hot-button of mine, Blake, so watch out!
Blake: Ha! Well, it's definitely personally convicting. But, for good or bad, I've also seen a lot of leaders throw their families away, so I hope I've learned from witnessing that. I meet a lot of people, late 40s, who are hoping to travel and do and see when they retire, only to die of cancer or see those dreams unfulfilled.
Steve: There is no tomorrow. I know your father-in-law passed at 57 from pancreatic cancer, and I've known three more at Wilson Learning who've died of pancreatic cancer in just the past few years. We can't live in a world of "someday" that often becomes a world of "should have." To remind me of this, I have a picture in my office that reads: Carpe diem, quam minimum credula postero. [Horace 65 BC]. Roughly translated, it means Seize the day, do not trust there will be a tomorrow.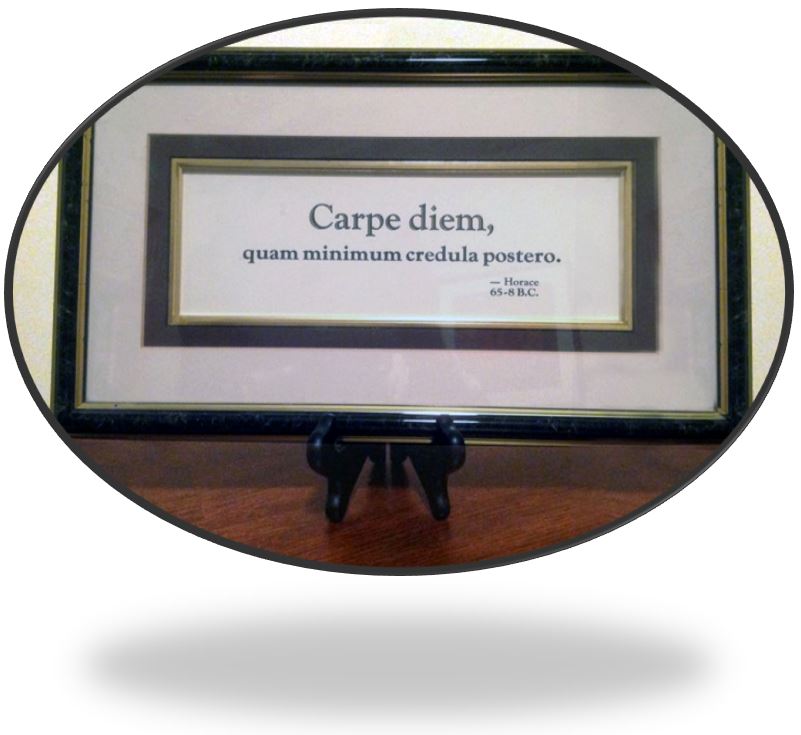 Blake: Ugh. Well, I think it was Knute who also reminded us the phrase, "Youth is wasted on the young," so the difference you're making in leaders' lives is invaluable, Steve. When we're young, we think life is finite, but many chapters never get written, which brings us back to the here and now and to being.
Steve: The currency changes from money to time, and it's a powerful moment when you see that lightbulb go on. But can I return for a minute to balance?
Blake: Of course.
Steve: I work with a lot of people who say they are out of balance, so I ask them what they mean. It can mean a lot of different things, not just that work and home are out of whack. It could mean being the rescuer at work, a heroic manager, giving up yourself at work…you know, the self part. It's helpful, therefore, to understand what—precisely—they mean when they say they feel unbalanced.
Blake: John Moore described balance as a barbell, and I think I did, too, for the first twelve years of my marriage.
Steve: And today?
Blake: Now I think of it as integration, of trying to find ways to do what I love, so that it rarely feels like work, and for each activity to feed the other. When I travel, for example, I try and think what cities Dawn and Lauren might enjoy and include them. And never feel guilt for leaving to see a performance at school, or a game, or whatever. They won't come 'round again, but work always will.
Steve: That's great.
Blake: And I don't know that angry is the right word, but I spend a lot of time in restaurants, and it angers me when I see young parents (with kids at the table) who spend two hours on their cell phones. Kids are swinging their legs, coloring menus, asking a million questions, and the parents are just glazed-over, blue faces buried in their screens. What signal does that send? Sorry, kiddo, you're not as interesting as my phone.
Steve: Anger is the word. [Laughter]
Blake: I think so. Maslow wrote, "If our executive training programs look fifty years ahead, then we should think about the kindergartens being of the right sort in order to create the future bosses and generals and managers and leaders that we will need in the next century." You and I, as coaches, we're the ones who see the after-effects of poor parenting, because these kids grow up to be adults! I know exactly what ignoring your child does to their psyche, and it's grievous. The child grows up in a family with limited affirmation, divided attention, and it's a deep hole to crawl out of. It shows up in self-doubt, limited self-esteem, overcompensation, sometimes addiction and serial broken relationships.
Steve: I've seen couples in a restaurant—where the kids are teenagers—and all four of them are on their phones and they never talk to each other. They look up every once in a while, and it's like they've lost any sense of intimacy as a family.
Blake: Someone had a quote about the more digitally connected we become, the more isolated we are. Ben Sasse, I believe, in his book. I think that's true. Proximity is close, but their psyche and emotions and spirit are not even in the same room.
Steve: Like an elevator, where people don't want to look at you, so they stare down at their phone, which I guess is an excellent way to be alone among others. I have to add that my wife and I were recently in an ice cream parlor and they had a sign that read: "There is no wireless here. Pretend it's 1995 and have a conversation with each other."
Blake: What else is on your mind, Steve? Any other observations about our world?
Steve: I think we've hit on some big ones; we really have. The whole concept of one's life journey has always been important to me, so when I'm focused on making people a better leader, I start by making them a better man, a better woman, a better person. Leadership is just an expression of our personhood, of who we are anyway. I'd love to leave a legacy of making more people more aware of who they are, and how they want to be. And to live a life, a full life. To me, this is the critical thing: To live a life of no regret, or limited regret, at the very least.
Blake: There's never enough time.
Steve: And time speeds up, I guarantee it.
Blake: We can't control the world, but we can choose how we spend our time. I like to talk about the locus of control, and what we control, then influence, then anticipate, then leave alone—because the rest is regret (the past) or worry (the future). I love that line from The Spanish Prisoner, the movie with Steve Martin based on David Mamet's play: "Worry is interest paid in advance on a debt that never exists."
Steve: One of the people that Larry sent us out to learn from was a guy by the name of Maxie Maultsby. He had this whole area called Rational Behavior Therapy, the premise of which is how you talk to yourself—the influence of how you talk to yourself—whether it's worry, or anger, or whatever. And his whole premise is that we need to get in touch with how we talk ourselves, because it drives our behavior, our energy, all these things. Very powerful concept.
Blake: You've talked about mastery coaching, and a number of concepts that are advantageous for a coachee. What are three or four particular skills that you find to be the most beneficial in people's lives, and in changing their life? I mean, self-talk and being aware of my hero's journey are two great examples, but what else?
Steve: Learning about your social versatility is very important. It's one of the critical leadership skills that is really underplayed, in my opinion. EQ [emotional quotient] is part of social versatility, situational leadership is a part of social versatility, Social Style is part of social versatility. The skill of social versatility is a critical one. I think the whole concept of discernment, of being aware of individual differences, knowing how to respond to differences, of being aware of what's going on in social transactions—I think is critically important.
I think another critical skill that I see good leaders demonstrate is defining reality. This involves being clear on your organization's challenges, opportunities, vulnerabilities—in general, understanding what's going on around you, and what needs to be done, because this dictates what is required of leadership.
And making connections is critical. As leaders, we need to make connections, especially if our organization is geographically dispersed. The ability to connect the right people together is another underrated yet essential skill.
I think one of the words in the business leader literature that is seldom used, but that people are really searching for, is hope. We refer to this as "realistic optimism" when we describe how one portrays the future of the organization.
The ability to create a culture in which expectations are clear to people is also a strong competency.
And validation. How do I validate people? How do I make them feel that they're important? How do I make them feel that they're supported, developed, recognized? All these things are the sort of things that I'd like to be able to make people more aware of, and to use.
Blake: This surfaces a couple of potentially sensitive, if not altogether flammable questions! First, what are the easiest mindsets, and who are the easiest people to coach? And second, the most difficult? Specifically, if you were hired to coach Donald Trump, how would you approach that?
Steve: Expletive.
Blake: I know, right? I'm so wicked. [Laughter]
Steve: To start, like I said before, there are those two predominant dispositions: fixed and open. People with a fixed mindset show low-versatility. They're fixed; they're certain about things; and they're not really open to other people's input. Their mind has been made up. Maybe they're polite to you in the coaching process, but they're not hearing and they're not getting it. To them, it's just an exercise. They don't ingest new information and change who they are. People with open minds, on the other hand, are wonderful. They're eager, sometimes even renegades, and are almost always engaged. So, fixed versus open, that's the first thing.
Now, the Trump thing. If you have ever worked with a narcissistic candidate for coaching, good luck. Second, I'm a very strong advocate of character-based leadership, where integrity and courage are foundational. Those are both strikes, I believe, against Trump's capacity to change. I've yet to witness him admit he's made a mistake, or apologizing for some of the ways he's treated people. His character, therefore, would make him a difficult subject.
Blake: Publicly, at least, he's certainly counter to the level of introspection, openness, and balance you've described.
Steve: But if I had to coach him, I would start by indulging him, through asking. An asking orientation. I would try to convey he has tremendous input into what he feels needs to be pursued with me. What that means is that I would pursue an inquisitive, ask-oriented discovery agreement: What are you challenged by? What keeps you up at night? I would encourage him to express his reality, or his perception of reality. My opportunity to share feedback would have to begin with what I call "invites." What I mean by an invite is when a person, like him, says something like, "You know, I'm really curious about my leadership." That's an invite. Now I'm invited to talk to him about his leadership. Or he might say something like, "You know, there are a lot of people I get along with, and there are some that I don't. Why is that?" This becomes an invite to start talking about relationships. I'm unconvinced, though, Blake, that I could tell him anything, and expect him to change. Personally, I would likely decline that assignment; life is too short.
Blake: Laura Ingraham described a lunch with him, years and years ago, in which she found him an open book. Completely inquisitive. She said they were together an hour, and that he said virtually nothing about himself. She described his wanting to know how she was raised, how she chose her profession, how the television industry works, how the radio industry works, how intellectual property is involved, etcetera. Said he asked her about her mom, the whole shebang. I was pretty impressed. You're right, I see what you see, but I also hear examples that are promising. I just can't tell how much of what he does is authentic, and real, versus staged, or strategic, or manipulative, or part of an opening move to clear the board. On the one hand, his Twitter is a nightmare but, on the other hand, he's almost systematically disrupted and upended and dismantled media and journalism, and the flow of information in this country. He shapes the agenda, and everyone's playing catch-up. I don't know that I like it; in fact, most of the time I don't, but I'm curious to see what comes of it—not for him, particularly, and his presidency—but for the future of the office. What, for example, will it look like in four, eight, twelve, or sixteen years down the road, for whomever succeeds him? Will the waterline return to where it was before him, or will it have been utterly and totally displaced, settling at a new low, or a new high? Clearly, Washington, D.C. is broken, and little gets done, but I'm curious to see whether—after breaking it—something better, v2.0, arises in its place. So much is constrained, and that's the beauty of the separation of powers and our Constitution, but I'm hoping we can move forward in some better way afterward.
Steve: You can have him, Blake; you can have him. If you call me and say that Trump has asked for coaching, I'll say, "He's yours, not mine!" [Laughter]
Blake: Your country needs you! [Laughter]
Steve: Yeah, your country needs you, Blake. Life's too short for me to worry about that, but I would try to get him to have a conversation with me, and then I'd look for opportunities—or invites—to respond to certain things. Without an invite, I wouldn't have a chance.
Blake: He clearly demonstrates a fixed, burn-it-to-the-ground mindset. At least that's his public persona. I sometimes wonder whether it's self-immolation, so that after he's gone, or impeached, or having failed to get much accomplished, he can look back—point at everyone in D.C. and say, "I tried to drain the swamp, but you bureaucrats...and The Establishment...and the elites...wouldn't let me," setting himself up as some martyr-disruptor who tried really hard to clear the streets of crooks, but couldn't.
Steve: To your first point, I'm sure there's a part of Trump that listens to some of his advisers, but his temperament and demeanor clearly show that he has a fixed mindset about a lot of things, that he's not open to hearing other people. I'll bet he's been told a thousand times—with factual information on his desk—that climate change is real, for example. But I don't think he's open to any of it, because he believes so strongly that it's not. He's been told several times that the wall isn't going to make any difference and, again, I don't think he's open to any of that. Regarding immigration, thinking he should personally determine who can come in—and who can't—so much of which he decides unilaterally, only to see the courts overturn it again and again. These are examples of a fixed mindset, of things that cannot be influenced until he chooses to be influenced. Chooses to be wrong. Chooses to be vulnerable. Chooses to be corrected. Chooses to change his point of view. He'd be a tough cookie, that's for sure.
Did you vote for Trump?
Blake: I voted my conscience, which was a throwaway vote. I couldn't bring myself to vote for the lesser of two evils, one a crony and the other a bully, so I voted for Gary Johnson, governor of my old state. [Laughter]
Steve: Ouch. The "And what is Aleppo?" fiasco.
Blake: What a quaint problem.
Steve: Don't feel too bad; I felt the same conundrum. Traditionally, I've been somewhat Republican over the years, but to me his character is so different than what I would expect of a leader that I can't get past it. Groping, arguing, personalizing people by calling them fat and ugly. A bully. Remember, Hillary had that ad that said, "Our children are watching," and it was one of the most powerful things…because it's so true. Like when he spoke to the Boy Scouts, thousands of Boy Scouts, and he's ranting about how unfairly he's being treated. Or when he spoke to the CIA, standing before a marble wall with 117 stars commemorating CIA employees killed in the line of duty, and he bragged about his appearances on the cover of TIME and the crowd size.
Blake: CIA Director John Brennan called the speech "a despicable display of self-aggrandizement in front of CIA's Memorial Wall of Agency heroes." Former CIA Acting Director John McLaughlin said, "It's simply inappropriate to engage in self-obsession on a spot that memorializes those who obsessed about others, and about mission, more than themselves."
Steve: Leaders set examples, and what a poor example of leadership in such moments.
Blake: This has been a fun pile-on, but I guess the more worrisome concern is what he may actually do. There's a lot of complexity across the globe, and though I'm delighted with the appointment of Neil Gorsuch, Trump's bullying of North Korea—a country that values saving face—seems very shortsighted, like checkers rather than chess. I'm equally frustrated, however, by the failures of our paper tiger diplomacy for decades. I do wonder whether it's true that to negotiate with a madman, you have to be a madman, though I suspect that's the child negotiating with the child, rather than the adult!
On point, though, all these examples illustrate either a lack of situational awareness, of self-awareness, or a disregard for it, of empathy, of sensitivity. When you approach a coachee, how do you gauge their well-being, their mental health, and then, how do you approach workplace performance when you believe the root cause(s) of nonperformance is personal, for example, has to do with childhood hang-ups? I find that coaching can be tricky, because it often leads to deeper issues, many of which feel out of bounds for workplace dialogues.
Steve: Well, the first screening is basically the invite to coach, you know, asking them who's driving the coaching, and why they'd like to be coached. Then, the second thing is the actual Intake session, because it often reveals whether I'm a good match for the person. I don't typically think in terms of psychological deficiencies, but a lot of times in the Intake it becomes clear to me that I'm not the right person to help this individual, and usually it's because of the way they answer questions.
Blake: Can you share an example?
Steve: Generically, of course. I was once asked to coach a woman whose story always changed. She pointed her finger at everyone around her and denied her faults, so I told her I didn't think I'd be a good match to help her get to the next level.
Blake: It's important for the person to take ownership, right, to own their part in the relationship? Not just with their peers or others in the workplace, but also with you, as their coach.
Steve: Absolutely. People have to make time, to commit to the process. Sometimes, people have excuses, and behave burdened by the coaching process, put upon. Being coached is not a one-way process, or one that can go forward without high commitment. Not successfully, at least.
Blake: It sounds like two sides of the same coin. On the one hand, leaders need to learn to rest their personality, but they also have to engage. This is a matter of disposition, of course, and choice.
Steve: Like all things, yes, it's a matter of degrees, of balance, of self-awareness, of the right disposition, of social versatility, of self-talk, of getting the adult to the table.
Blake: Speaking of tables, Steve, I think I hear the dinner bell.
Steve: Enjoy it. Give your girls a hug for me, and leave the phone off.
Blake: Yessir.
Steve: No regrets.

E N D
To learn the impetus behind Fireside, click here or here, and please join us again next Wednesday for another chat.
###