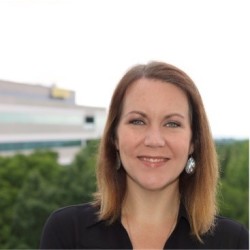 Kristin Robinson
Kristin Robinson is a Senior Consultant for Leath Group, LLC—a dynamic curriculum development and intellectual property greenhouse that grows leaders and shapes cultures. Kristin is highly regarded by our team and clients for her many strengths, some of which include:
A capacity to deliver valuable contributions quickly
Unwavering commitment to the customer and end goal
Creative thinking and problem solving—driving ideas from concept to implementation
High motivation, reliability, and confidence
Great organization and an uncanny ability to complete multiple objectives while pursuing them concurrently
Excellent rapport—solid communication and interpersonal skills
Tireless commitment to quality and professionalism
Kristin's passion lies in maximizing employee and organizational potential through training and development interventions. She is a true advocate for the value and importance of learning in organizations.
Her professional work experience and projects include:
Design, development, implementation, and tracking of eLearning courses created to prepare mental healthcare providers for assignments on military installations around the world
Facilitation of virtual training sessions on topics such as: Stress Management, Dealing with Difficult People, and Emotional Intelligence in the Workplace
Administration of a Learning Management System (LMS) for a healthcare organization
Research and development of three simulation-based assessment centers (for selection and development)
Identification and development of continuous learning resources linked to core competencies for individuals who have been assessed and demonstrate a need for performance modification
Kristin earned her BA in Psychology at Austin College. During this time, she also studied abroad at University of New South Wales, Sydney, Australia, and was a member of Psi Chi National Honor Society of Psychology. She earned her MS in Industrial & Organizational Psychology from the University of Texas at Arlington.
Kristin and her husband, Charlie, live in Lewisville, TX. They love everything to do with music, art, and Australia, including their Australian Cattle Dog, Lexi.