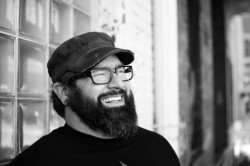 JR. Forasteros
JR. Forasteros is a Senior Ghostwriter and Faculty Member for Leath Group, LLC—a dynamic curriculum development and intellectual property greenhouse that grows leaders and shapes cultures. JR. is also a prolific blogger, podcaster, and pastor. He served as Teaching Pastor at Beavercreek Church of the Nazarene in Dayton, Ohio before beginning his #Texodus, which led him to become Teaching Pastor at Catalyst Church, just east of Dallas.
As a blogger, podcaster, and pastor, JR. illustrates complex and abstract theological and philosophical ideas in accessible, non-technical language. He erases the divide between the Academy and everyone else by demonstrating we are all having the same conversations and using popular culture to create a common language and foster insight and understanding.
JR.'s blog features film, TV, and book reviews on everything from the latest superhero film to Dexter to Stephen King. His sermons and classes frequently mash up the ancient worlds of Israel and Rome with contemporary authors, filmmakers, and storytellers. And the StoryMen podcast he co-hosts regularly interviews authors from across the country in a variety of genres. He's found that any time you can show how Batman fighting the Joker embodies Nietzsche's void, people tend to pay attention.
After a decade in the blogsphere and in ministry, JR. has learned how to speak the languages people understand. He is an outstanding written and verbal communicator, regularly consulting with other pastors and bloggers to improve both strategy and content. JR. also regularly leads a team of communicators in developing content that is engaging, clear, and transformative.
JR. has a BA in New Testament Theology from Southwest Baptist University and an MA in Religious Studies from the University of Missouri-Columbia. He is an ordained elder in the Church of the Nazarene. Studying in both confessional and non-confessional institutions taught JR. to navigate the various languages people use to navigate their days: how they talk to their co-workers, their families, their friends, and their fellow worshipers. JR. has honed his ability to communicate the same message in all of these spheres, so that his readers and listeners are drawn together to celebrate what they share in common, often to their surprise. In the classroom, on the stage, and in his blog, JR. pushes the envelope of what educational conversations can look like. His community of listeners, readers, and co-teachers constantly re-imagine what serious engagement looks like and how to foster it in their communication.
JR. works so he and his wife, Amanda, can travel. They love to set off on adventures, and have friends all over the globe. They also love to host, and are always on the lookout for a new recipe to try for one of their famous Forasteros Feasts. They're also avid readers and film-goers, and they're always up for a new challenge. JR. and Amanda call Dallas, TX home base.