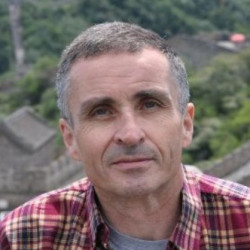 Gary Moreau
Gary Moreau is an Executive Consultant and Faculty Member for Leath Group, LLC—a dynamic research, curriculum development, and intellectual property greenhouse that grows leaders and shapes cultures.
In his fourth decade of leadership, Gary has served as consultant, global executive, private equity partner, General Manager of a large multinational in China, and always as writer, thinker, and pragmatic philosopher.
As former President & COO of Oneida, CEO & Operating Partner of Lionel LLC (Lionel Trains)/Wellspring Capital Management, Managing Director and subsequently VP & GM (Asia Pacific) of Libbey Inc., Gary has thought often and deeply about the disciplines of leadership, collaboration, communication, strategy, and the nature of ethics in the workplace.
He is the author of the Understanding series of books with volumes devoted to doing business in China, general business and leadership, and living a fulfilling life. Understanding Business: The Logic of Balance was named a 2017 Top 100 Business Book of the Year by Kirkus Reviews and one of his fictional books, The Message, written under the pseudonym Avam Hale, was given a perfect 4/4 rating by the onlinebookclub.org and subsequently named book of the day.
Recognized by the World Economic Forum as a Global Leader for Tomorrow in the Class of 1993, which also included Bill Gates and Michael Dell, Gary's abundant curiosity and thoughtfulness are animated through research, consulting, speaking, and ongoing contributions to scholarship and personal and professional service. You can find many of his articles on leadership and management on LinkedIn.
Gary studied Economics at Middlebury College, from which he graduated with honors.
Having spent eight consecutive years leading in China, Gary is now stateside again, where he makes his home in Rochester, Michigan. A voracious reader, Gary is an Amazon Top 500 book reviewer and has a large following for his book reviews on Goodreads, where he reviews a wide range of genres from classic literature to philosophy and business.