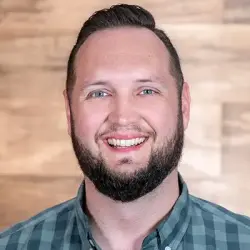 Destin Garner
Destin Garner is an Adjunct Faculty Member for Leath Group, LLC—a dynamic research, curriculum development, and intellectual property greenhouse that grows leaders and shapes cultures. He is a Spirited Series teacher, facilitator, and cohort leader.
Here's a bit more about Destin in his own words:
My Family:
Wife: Jamie (Married Aug 12, 2006)
Daughter: Bryce Dallas (Born May 16, 2016)
Daughter: Sanders Rae (Born March 7, 2018)
Dog: Descartes (Mini Schnauzer)
My Story:
I grew up in a Christian home where my parents valued the importance of going to church. I put my trust in Christ as my savior at the age of 10 but it wasn't until 20 when the fruits of my life showed strong and consistent evidence of my salvation. After graduating college in 2006 I took a job as a Student Pastor in Austin, TX and have been in ministry ever since.
Something Most People Don't Know:
I love to grill, edit photos, and play drums.
My Trademark Expression:
Done and done. Blessed to be a blessing. Let's do lunch.
Besides the Bible, my recommended reading would be:
Any and everything. Leaders are readers, so I think you ought to expose yourself to as many good thoughts, stories, and ideas as you can.
I'm most excited about:
Being used by God in people's lives.
My Favorite TV Shows:
Sports on mute.
In my free time, I usually:
Travel, Eat, Golf, Watch Movies, and Go on Dates with my Girls.